[column width="1/1″ last="true" title="" title_type="single" animation="none" implicit="true"]
How to Avoid Unexpected Liability For Wintertime Slip and Falls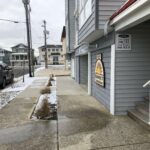 Winter is not over yet.  We are nearly guaranteed to have ice and snow in Chester County Pennsylvania in February or even early March.  Snow and ice lead to Slip and Fall accidents, injuries and legal liability.
Here are 5 Tips to Avoid Legal Liability from Slip and Fall Accidents caused by Snow and Ice:
Define Who is Responsible for Snow and Ice Removal and Treatment
In landlord/tenant situations, the issue of who is responsible to plow, shovel and treat snow and ice should be clearly defined in the Lease.  The landlord should spell out who must clear driveways, parking lots and sidewalks.  If responsibility is placed on the tenants, the Lease should provide that that tenant assumes all liability for slips and falls and the lease should require the tenant to purchase liability insurance.  In situations where a business or home has frontage on a public sidewalk, the property owner should research who is legally responsible to clear the sidewalk, the property owner or the municipality.
Promptly Shovel Snow and Salt Ice
Although Pennsylvania has favorable laws providing some protection to property owners from liability relating to snow and ice storms, ice and snow should be cleared promptly after a storm.  Often municipalities will have Ordinances specifying how quickly shoveling must be done.  Research and follow Ordinances and do your best to clear snow and treat ice in a timely manner.  If you allow it to remain and someone falls and is injured, you may face a legal claim.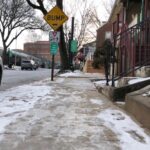 Don't Forget to Salt Spots that Melt and Re-freeze
After the initial snow or ice clearing, it is common to have melting and refreezing, which can create dangerous ice patches.  To minimize melting and freezing issues, think about where and how you pile snow.  Be sure to establish a regular schedule to salt and sand ice patches.  If possible, have a written schedule and keep records of your work.  This information would be helpful in defending a slip and fall lawsuit.
Be Mindful of Gutters, Downspouts and the Slope of the Property
Ice patches often result from defective gutters or downspouts or improperly designed or maintained parking lots, driveways or sidewalks which allow water to collect and freeze.  Be sure to conduct regular maintenance to prevent ice patches.  Also, have and maintain proper railings on stairways.
Make Sure that You are Adequately Insured
Make sure that adequate liability insurance is purchased which will cover slip and falls on ice and snow.  Falls can result in serious injuries, like broken hips or spine damage.  Liability coverage should be high enough to pay for serious injuries.
Wintertime can be beautiful, but also dangerous.  Snow and ice can result in slip and fall accidents and costly lawsuits, but the risks can usually be eliminated or managed through proper planning and insurance.
Tim Rayne is a Personal Injury and Slip and Fall Lawyer with the Chester County Pennsylvania law firm MacElree Harvey.  For over 25 years, Tim has been helping injured accident victims receive fair compensation from insurance companies.  Tim regularly represents Slip and Fall victims who have been injured in falls on snow or ice.  Tim has law offices in Kennett Square, West Chester and Philadelphia.  Tim can be reached at 6108400124 or trayne@macelree.com or you can check out Tim's website at www.TimRayneLaw.com.
[/column]