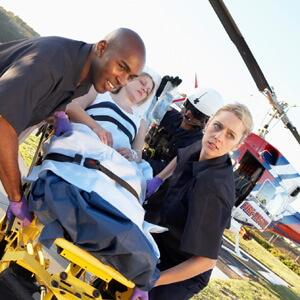 Under Pennsylvania law, car and truck drivers have an obligation to look out for pedestrians, but each year thousands of pedestrians are seriously injured or killed by careless drivers. If you or a loved one has been injured, you may need a Pedestrian Accident Attorney.
Pedestrian Injuries can occur in crosswalks, on sidewalks, or in parking lots.  Pedestrian Accidents typically involve serious if not catastrophic injuries and even death and often include broken bones, head injuries, or spinal cord injuries.
Pedestrians who are injured in an accident often ask common questions: Who will pay for my medical bills? Who will pay my lost wages? Do I have legal claims for compensation? Should I talk to the insurance company? Do I need a lawyer? How much is fair compensation for my injuries?
If you've been injured in a Pedestrian Accident, you may be entitled to money compensation for your injuries and losses (medical bills, lost wages, pain and suffering). You may not need to hire a lawyer, but you should get advice from an Experienced Pedestrian Accident Attorney.
Tim Rayne focuses his entire law practice in Personal Injury Law and has been helping people who have been injured in accidents, including Pedestrian Accidents, receive fair treatment and compensation from insurance companies for over 25 years.
Tim has experience in settling Personal Injury cases and trying them in court if necessary. Starting in 2014, Tim was named a Top 100 Lawyer in Philadelphia and Pennsylvania by Super Lawyers and he has the highest AV rating for legal skill and ethics by Martindale-Hubbell.
You can contact Tim by phone (610.840.0124) or email to discuss how Tim can help you or click here to download a Free Copy of his Consumer Guide, "A Lawyer's Guide to Personal Injury Cases."
Tim offers free consultations for Pennsylvania Pedestrian Accident cases at his offices in Kennett Square or West Chester, Pennsylvania or will travel to your home or any other convenient location. If Tim accepts your Pennsylvania Pedestrian Accident case, he works on a Contingent Fee basis, meaning that there are no attorney fees unless he recovers compensation for you.
We represent accident clients who have suffered severe injuries from pedestrian accidents including head injuries, catastrophic brain injuries, spinal cord injuries, neck and back disc injuries, arm and leg fractures, abrasions, road rash and other injuries.
Tim Rayne represents clients in Chester County, Delaware County, Montgomery County, Bucks County, Berks County, Lancaster County, and Philadelphia County, Pennsylvania, and regularly assists people in West Chester, Kennett Square, Southern Chester County, Unionville, Avondale, Toughkenamon, West Grove, Jennersville, Landenberg, and Oxford Pennsylvania.
Articles