Injured in an accident? You have Questions and We have the Answers.
We help Accident Victims understand their legal rights and we take over the insurance claim process to make sure you receive fair compensation so you can focus on your recovery.
Accident Victims Have Questions
What are my Legal Rights?
Who will pay my medical bills and lost income?
Should I talk to the insurance adjuster?
Should I handle the claim myself or hire a lawyer?
We Have The Answers
Unfortunately, an insurance claim after an accident is an adversarial process. Insurance companies make money by charging premiums and lose money by paying claims.
The insurance adjuster works for the insurance company, not you. Legitimate claims are often denied or under-valued.
Given this adversarial process, it is critical for you to get legal advice from an experienced accident lawyer as soon as possible. You may not need to hire a lawyer but should get advice because there are mistakes you can make that can harm your claim.
A different kind of Personal Injury Lawyer.
Tim Rayne has been helping accident victims understand their legal rights and receive fair compensation from insurance companies for over 25 years.
Tim has a Master's Degree in Trial Advocacy and is Board Certified as a Civil Trial Lawyer.
Tim has been named by Super Lawyers as a Top 100 Lawyer in Pennsylvania. Tim has also been recognized in Best Lawyers, has been regularly named as a Top Lawyer by Main Line Today, and is a member of the Million Dollar Advocates Forum. Tim regularly negotiates settlements with insurance companies but also tries Personal Injury jury trials in Court.
Legal advice is free and there is no obligation to hire us.
If we believe we can help you and you decide to hire us, all fees are contingent on a settlement or verdict in your favor. There are no fees if there is no recovery.
Free Book: Protecting Your Family From Accidents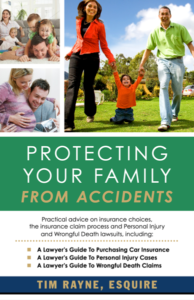 Practical advice on insurance choices, the insurance claim process and Personal Injury and Wrongful Death lawsuits, including:
A Lawyer's Guide to Purchasing Car Insurance
A Lawyer's Guide to Personal Injury Cases
A Lawyer's Guide to Wrongful Death Claims You exhibited the highest sense of ethics and honesty. I felt my case was presented fairly and truthfully… Perhaps, most importantly, I felt that you truly cared about me and my family…

— Larry
Videos