If you have been injured in a Pennsylvania car accident then you are in the right place.
We help accident victims understand their legal rights and we take over the insurance claim process to make sure that you receive fair compensation so that you can focus on your recovery.
How We Help Car Accident Victims:
Analyze your case to see if you need a lawyer or can handle it yourself.
If you need a lawyer then we take over the entire insurance claim process so that you can focus on your recovery.
Evaluate your claim and locate all applicable insurance coverage and other sources of compensation.
Negotiate a fair settlement with the insurance company or litigate your case in court.
Why Tim Rayne Law?
FOCUS | EXPERIENCE | COMPASSION
Over 25 years of experience in Personal Injury law.
100% practice devoted to Personal Injury victims
Former experience as a Personal Injury defense lawyer.
Former car accident victim.
Advanced education and certification – Master's Degree in Trial Advocacy
Board Certified Civil Trial Lawyer.
Extensive experience negotiating settlements with insurance companies and winning jury trials.
Honored by Super Lawyers (Pennsylvania Top 100 Lawyer), Best Lawyers, Main Line Today Top Lawyers, and The Million Dollar Advocates Forum.
What Our Former Clients Say:
Free Car Accident Resources
Free Book: Protecting Your Family From Accidents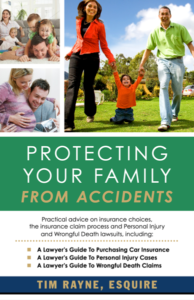 Practical advice on insurance choices, the insurance claim process and Personal Injury and Wrongful Death lawsuits, including:
A Lawyer's Guide to Purchasing Car Insurance
A Lawyer's Guide to Personal Injury Cases
A Lawyer's Guide to Wrongful Death Claims