$50 Million IKEA Furniture Tip-Over Settlement
IKEA agreed to pay $50 Million to settle lawsuits involving furniture tip-overs of the MALM dresser that killed toddlers in Pennsylvania, Washington and Minnesota.
Apart from providing compensation to the families, the settlement called for substantial donations to three children's hospitals and funding to Shane's Foundation, a non-profit providing education on child safety with a focus on furniture tip-over education and prevention.
IKEA also agreed to change its policies to only sell dressers that meet or exceed safety standards and to increase awareness of the danger of furniture tip-overs.  Because of the lawsuit the following warning now appears on IKEA's website: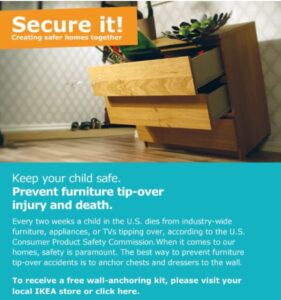 The terms of the IKEA settlement prove that, despite the stigma of Personal Injury Lawsuits and Personal Injury Lawyers, good things can result from Personal Injury Litigation.
The IKEA settlement will bring attention to the hidden danger of furniture tip-overs and the terms of the settlement required IKEA to change its policies to enhance the safety of its products.  In addition, the huge amount of the settlement should incentivize all other furniture manufacturers to focus on tip-over prevention or else be at risk for future legal claims.
Furniture Tip-Over Danger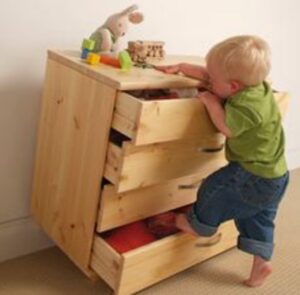 I have two children in college who were toddlers long ago, but I still remember them using furniture to pull themselves up and trying to climb on almost anything in the house.  What I don't remember, though, is having any awareness of the danger of furniture (like dressers or book cases) or heavy TV's  tipping over which could seriously injure or kill a toddler.
What I have learned now from research into the IKEA Settlement is that furniture tip-over injuries and deaths are all too common, but, luckily are also easily preventable.
Furniture Tip-Over Statistics
Every 15 Minutes someone in the US is injured by a furniture tip-over
Every 2 weeks a child dies when furniture or a TV tips over
The estimated number of ER visits per year for tip-over incidents is 33,000
91% of furniture tip-over fatalities occur in the home
2/3 of the furniture tip-over fatalities involve toddlers
Furniture Tip-Over Injuries and Deaths are 100% Preventable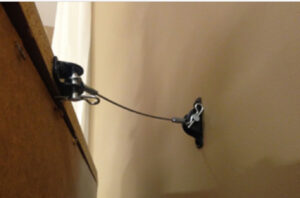 The good news is that furniture and TV tip-over injuries and deaths are 100% preventable.  Proper anchoring devices should be provided by the furniture or TV manufacturers and, if not, can be purchased on line or at a local store.
If you follow the anchoring instructions carefully and properly anchor your furniture and TV's, the tip-over hazard can be eliminated.
For more information on the furniture tip-over danger and how to make your home safe from it visit Anchorit.gov.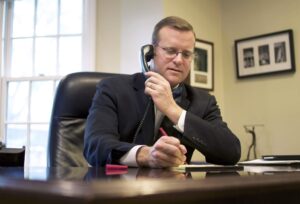 Tim Rayne is a Personal Injury Lawyer with the Law Firm of MacElree Harvey.  For over 20 years, Tim has been helping to educate the public on safety issues and insurance choices.  Tim has offices in Kennett Square and West Chester, Pennsylvania and can be reached at 6108400124 or trayne@macelree.com.