There is a very strange Pennsylvania Rule of Evidence that can forbid a car accident victim from testifying about how the accident happened.
It's called the Dead Man Rules and the gist of the rule is that when one party to a legal case is dead, the surviving party is incompetent to testify in the case.
The reason for the rule is that injustice could result from the surviving person being able to testify favorably to himself while the dead person's estate is unable to refute such testimony.
The Dead Man's Rule was just applied in a Philadelphia Car Accicent case.  The Plaintiff's in the case, Davis and Gibson, claimed that they were injured in a car accident caused by Wright, who died 4 months after the accident.  In the lawsuit, the defense attorney for Wright's Estate asserted that the Dead Man's Rule prohibited both Davis and Gibson from testifying at trial about how the car accident occurred.
The trial court agreed because Davis and Gibson had rights adverse to the Estate of Wright and since Wright was dead, it would be unjust to allow Davis or Gibson to testify as to how the car accident happened. Because there were no other witnesses to the accident, the judge dismissed the lawsuit.
Personally, I have mixed feelings about the application of the Dead Man's Rule in a Pennsylvania car accident case.  On one hand, it seems unfair that competent witness is prohibited from testifying just because the adverse party has died.  But, on the other hand, the Dead Man's Rule seems appropriate because it prevents the injustice that would occur if the surviving party chose to fabricate a favorable story just because the other party was dead and could not refute the story of the surviving party.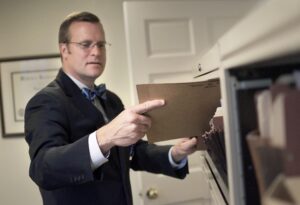 Tim Rayne is a Pennsylvania Car Accident and Personal Injury Lawyer with the law firm MacElree Harvey, Ltd.  For over 20 years, Tim has been helping accident victims receive fair treatment from insurance companies.  Tim has offices in Kennett Square and West Chester Pennsylvania and can be reached at 610 840 0124 or trayne@macelree.com.  Tim offers Free Consultations in all Personal Injury cases.