You've been injured in a Car Accident in Pennsylvania that was caused by someone else and now the Car Insurance Adjuster is calling to offer you $1,000 to settle your claim. The adjuster is also telling you that you don't need to talk to a lawyer.
What should you do? Is the adjuster right? Do you need a lawyer or not? Should you take the money? What is this Release he wants you to sign?
Well, as with all legal issue, it all depends. The Devil is in the Details.
Are you hurt? If so, what's wrong? Will you need more treatment? What are your doctors saying? Are you losing time from work? What are your other damages?
First things first, Pump the Brakes
There is no rush. The insurance company knows it has a problem. The accident was caused by its insured. You have a valid claim. The insurance company wants to settle as quickly and cheaply as possible.
For you, there is no reason to rush. Your only time limit is the 2 Year Statute of Limitations which says that if you don't bring legal action within 2 years of the date of the accident, then you lose your rights.
So, slow down. See what happens and think. Let the adjuster keep calling you and don't talk to him.
When Don't you Need a Lawyer After a Car Accident?
You Don't need a lawyer if you have very minor injuries that you are sure will not worsen and the insurance company is making you a fair offer.
To know what a fair offer is you can likely have a Free Consultation with a Car Accident Lawyer like me and hopefully the lawyer will offer you some guidance on how to negotiate a settlement for a very small claim without charging you a fee.
But, beware that the insurance company will require you to sign a legal Release to get your money which forever extinguishes your claims.
When Do you Need a Lawyer After a Car Accident?
If you've been injured in a Car Accident caused by someone else and you have injuries that will require more than a few trips to the ER, Urgent Care or a Doctor, then you should get legal advice and consider retaining a Car Accident Lawyer to represent you.
Car Accident lawyers work on a Contingent Fee Basis and get paid out of the recovery, so it won't cost your anything up front to talk to or even hire the lawyer.
Talking to a Car Accident Lawyer rather than to the adjuster will allow you to get educated on the process and your legal rights and to learn about the compensation to which you are entitled because you were hurt by someone else's carelessness.
When in doubt, it's wise to get a referral and call a Car Accident Lawyer.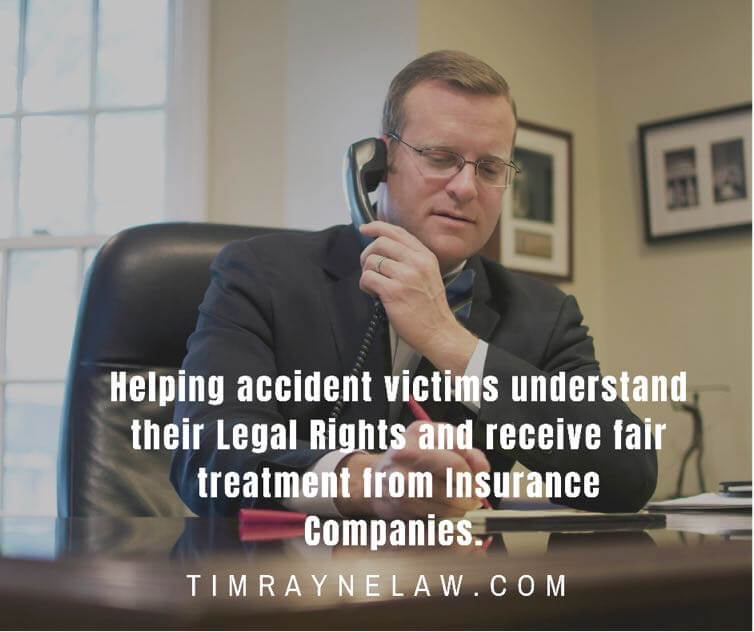 Tim Rayne is a Pennsylvania Car Accident Lawyer with the Chester County based law firm MacElree Harvey. For over 25 years, Tim has been helping injured accident victims understand their legal rights and receive fair compensation from insurance companies. Tim has law offices in Kennett Square and West Chester and also meets with clients in their homes or remotely via FaceTime or Zoom. Contact Tim at 610-840-0124 or trayne@macelree.com or visit his website at www.TimRayneLaw.com.