[column width="1/1″ last="true" title="" title_type="single" animation="none" implicit="true"]
Scaffold Injury Case
It's a common sense Safety Rule:  Inexperienced workers need training to avoid serious injuries while using scaffolding.
Unfortunately, my client was a victim of a violation of this Safety Rule in that she didn't get any training and suffered a serious injury.
Jessica (not her real name), worked for a large corporation and was spending her annual day of volunteer service helping to rehab the home of a low income elderly woman in West Chester, Pennsylvania.  Jessica, like her co-workers, had no construction experience and was expecting the home rehab charitable organization to provide a safe work environment.
Unfortunately for Jessica, the home rehab organization did not have anyone who was knowledgeable and experienced in constructing or working with scaffolding.
When Jessica and her co-workers arrived at the house to begin working, they were offered their choice of jobs, gutter cleaning using a ladder or shutter painting using a scaffold.  Painting sounded easier and safer, so they chose to paint.
Unbeknownst to Jessica, the scaffold they were to use while painting was not properly constructed for the uneven ground it was set up on and it had no ladder to provide them safe access.
Jessica and her co-workers mistakenly thought that the wrung-like bars on the scaffold were meant to be climbed on to access the scaffold.
Jessica began to climb the scaffold, but when she got near the top, she realized that the whole scaffold structure was unstable.  Jessica began to climb back down, but lost her balance, fell and jammed her knee when she struck the ground.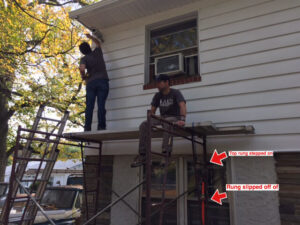 Jessica did not realize how injured she was until she went to the Hospital.  The diagnosis after an X-Ray was a serious leg/knee injury, a tibial plateau fracture, which required surgery with plates and screws, resulting in scarring, pain and decreased strength and range of motion.
The Legal Claims
When Jessica realized how injured she was and when the rehab organization did not offer to pay her medical bills, she sought my legal advice.
I retained a Construction Expert who analyzed the accident and determined that the organization was Negligent for violating numerous OSHA and ANSI construction safety standards regarding the construction of the scaffold and failure to properly train and supervise its workers.
Safety violations included:  failing to level the scaffold on uneven ground, failing to provide a ladder to access the scaffold and failing to train the workers on the proper method of accessing and using the scaffold.
The Lawsuit
Initially, the insurance company for the rehab organization failed to offer a fair settlement.  Instead, it tried to blame Jessica for her injuries and made only a Low Ball offer to settle Jessica's claims.
We cut off negotiations and immediately filed a Personal Injury Negligence Lawsuit in Chester County, Pennsylvania.
The key to settling the case for a fair amount of compensation was the deposition of the work supervisor who ran the project for the rehab organization.  In his sworn deposition testimony, the supervisor admitted that he was responsible for constructing the scaffold and for the safety of the workers.  The supervisor acknowledged that he had no training on the construction or use of scaffolds and knew nothing about the relevant OHSA or ANSI safety standards.  He also testified that he did not see any safety issue with Jessica accessing the scaffold by climbing it rather than using a ladder.
This deposition testimony was damning, particularly given the detailed report we had from a construction expert documenting many safety standard violations.  This leverage caused the insurance company to re-evaluate Jessica's claim and offer a fair settlement just before Trial.
In the end, Jessica was pleased with the settlement as well as the fact that the case did not have to go to a Jury Trial to win fair compensation.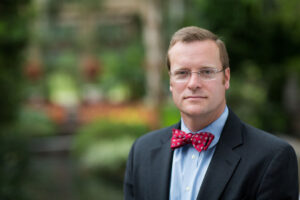 Tim Rayne is a Personal Injury Lawyer with the Pennsylvania Law Firm MacElree Harvey.  For over 25 years, Tim Rayne has been helping injured victims of accidents, including Construction Accidents, receive fair compensation.  Tim has law offices in Kennett Square and West Chester Pennsylvania and also meets with clients at their homes or virtually via Zoom or FaceTime.  Contact Tim Rayne for a Free Consultation at 6108400124 or trayne@macelree.com or check out Tim's website at www.TimRayneLaw.com.  
[/column]