[column width="1/1″ last="true" title="" title_type="single" animation="none" implicit="true"]

The Helmet Incident and Injuries
My client Jeff (not his real name) was riding in a motorcycle procession to honor a friend who had died.  Jeff was traveling at about 30 mph when suddenly the motorcycle in front of him swerved to the left because something was bouncing on the highway in his path.
Jeff hit the brakes and swerved.  He was launched over the handlebars and onto the pavement.
Jeff suffered multiple serious injuries including broken ribs, punctured lung and a concussion.  Road rash injuries to Jeff's legs were complicated with blood clots requiring surgery.  Jeff incurred thousands of dollars in medical expenses and missed weeks from work.
When Jeff was released from the Hospital, he was finally able to talk to others in the procession, get the Police Report and piece together what had happened.  What Jeff learned was that the rider two rows ahead of him had a helmet on his motorcycle but failed to properly secure it.  During the procession, the helmet fell off the motorcycle and bounced down the highway, directly in front of Jeff's path of travel.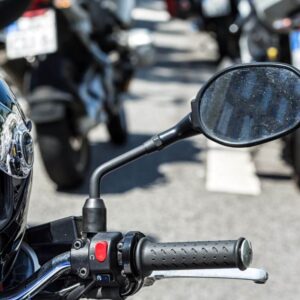 This had startled Jeff and caused the crash.
Negligence
Although this was not a garden-variety legal claim for Negligence (like a rear-end collision, failure to yield while making a left turn or running a red light case) it was nonetheless a clear cut case of Negligence, making the helmet owner responsible for Jeff's injuries and damages.
Everyone has a duty to be careful in everything that they do.  If they are careless and cause unnecessary and preventable injuries, then they are responsible for paying for the harm.  Usually the harm is paid for by insurance rather than directly by the negligent person.
In this case, the motorcycle rider had a duty to be careful with his helmet.  He had the responsibility to either secure the helmet on his head or on the motorcycle to prevent it from falling into traffic and causing an accident.  Although he did not intend for Jeff to get hurt he was careless and was Negligent.  As such, he was legally responsible for the harm.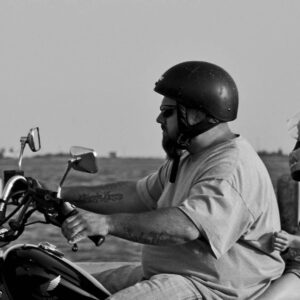 The Legal Claims
Because the other driver was Negligent, Jeff had a legal right to be compensated for all of his harm including his medical bills, lost income and money for his pain and suffering, disability and scarring.
After Jeff hired me we made two claims, one against the motorcycle insurance of the helmet owner and another claim against Jeff's own Underinsurance Coverage on his motorcycle because the helmet owner did not have enough coverage to fully compensate Jeff.
Some people might think that there should have been to claim in the first place, that this was just an Accident that no one should have to pay for.  But, would that really be fair to Jeff?  Jeff was minding his own business and was seriously injured through no fault of his own.  The other driver did not mean to cause the accident, but he did through his careless storage of his helmet.
Luckily, insurance policies paid for all of the damage.
In the end, justice was done.  The helmet owner's insurance and Jeff's insurance paid fair compensation to make up for the injuries and damages.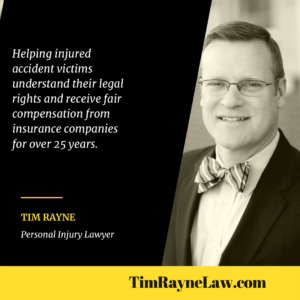 Tim Rayne is a Personal Injury Lawyer with the Pennsylvania law firm MacElree Harvey.  For over 25 years, Tim has been helping injured accident victims understand their legal rights and receive fair compensation from insurance companies.  Tim helps with a variety of claims including Car, Truck, Motorcycle, Bicycle and Pedestrian Accidents; Slip and Fall; Medical Malpractice and Dog Bite claims.  Tim has law offices in Kennett Square and West Chester Pennsylvania and also meets with clients in their homes or remotely via FaceTime and Zoom.  
Contact Tim Rayne for a Free Consultation at 6108400124 or trayne@macelree.com or TimRayneLaw.com.  
[/column]