Slip and Fall Lawsuits in Pennsylvania
Pennsylvania Slip and Fall laws are designed to protect customers from danger, including Slip and Fall hazards.  Pennsylvania business owners are responsible to inspect their properties and eliminate any hazards or warn their customers of any danger.
Despite these legal protections for customers, it often seems like there is a tendency for people to blame the injured fall victim rather than the property owner when a Slip and Fall accident occurs.  This is not consistent with the law of Pennsylvania, which clearly and logically requires the business owner to protect its customers from unnecceary harm.
Duties of a Pennsylvania Business Owner to Prevent Slip and Fall Accidents
Pennsylvania business owners are obligated to look out for the safety of their customers.  Customers are owed the highest duty of care for business owners to protect them from harm.  The law recognizes that customers who visit a business have a right to assume that the property will be reasonably safe.  Since a customer may be visiting the property for the first time and may be distracted by shopping or other business activities, it makes sense for the owner of the business, who is familiar with the property and making money from the customer, to have a responsibility to keep the customer safe.
Under Pennsylvania Slip and Fall laws, the owner of the business has a responsibility to make a reasonable inspection of the property to uncover any dangers that its customers might not notice.  Then, the business owner must either correct the danger to make the property safe or warn its customers of the danger so that they can protect themselves.
This is a common sense safety rule designed to keep everyone in Pennsylvania safe.
Slip and Fall hazards can exist becuse of negligent design or construction, like faulty stairs, railings or flooring.  In addition a property can be dangerous due to improper maintenance, like a failure to clean floors or properly shovel or treat ice or snow.
If a customer is injured in a Slip and Fall accident then the customer has a legal claim for compensation for all resulting harm including medical bills, lost income, pain and suffering and any disability.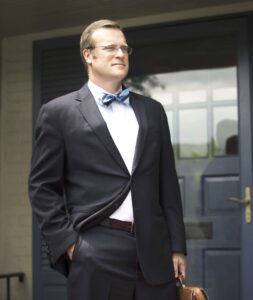 For more information on Pennsylvania Slip and Fall cases contact Personal Injury Lawyer Tim Rayne of the law firm of MacElree Harvey.  Tim has offices in Kennett Square and West Chester Pennsylvania and regularly helps victims of slip and fall accidents receive fair treatment from insurance companies.  For help with your Slip and Fall accident case contact Tim at 6108400124 or trayne@macelree.com.