[column width="1/1″ last="true" title="" title_type="single" animation="none" implicit="true"]
On July 21, 2020, the Pennsylvania Supreme Court decided the case of Maas v. UPMC Presbyterian Shadyside, 234 A.3d 427 (Pa. 2020), concluding that a mental health professional can be sued when a patient threatens to murder or seriously injure a "readily identifiable" victim and the facility fails to warn such individual of the danger.
Facts of the Case
Prior to 2008, Terrance Andrews resided in a supported living facility under the supervision of and while receiving ongoing mental health treatment from UPMC Presbyterian Shadyside ("UPMC").
In January of 2008, UPMC facilitated Andrews moving to independent living on the fourth floor of Hampshire Hall in Pittsburgh. Andrews did not function well in his independent environment, and his treatment notes from UPMC indicate that his living situation was a stressor apparently due, in part, to unpleasant interactions with his neighbors.
For a period of five months after moving into Hampshire Hall, Andrews frequently expressed suicidal and homicidal ideation to his UPMC treatment providers. He complained about his neighbors and others and threatened to kill a neighbor who had been knocking on his door in the middle of the night. He also reported several run-ins with various neighbors, one of which resulted in his next-door neighbor's boyfriend hitting him with a baseball bat.
Andrews repeatedly asked to be returned to a supported living environment with caregivers on site but he was left at Hampshire Hall.
On May 9, 2008, Andrews reported another run-in with a neighbor and expressed a plan to "stab the neighbor with scissors." Andrews did not identify any neighbor by name, and UPMC took no steps to warn any of the residents at Hampshire Hall.
On May 25, 2008, Andrews again sought in-patient admission at UPMC asserting that he had not been taking his medication, was hearing voices, and was having homicidal thoughts. A case manager at UPMC dissuaded him from seeking admission and sent him home with medication and a promise to secure him placement in a personal care home within 36 hours.
Four days later, on May 29, Andrews murdered Lisa Maas, a 19-year old student, by stabbing her to death with scissors in her apartment which was located five doors away from Andrews' own apartment on the fourth floor of Hampshire Hall.
When arrested, Andrews told the police "I told them [UPMC] the medication wasn't working. I told people I was going to kill someone."
Andrews was convicted of murder and sentenced to life imprisonment.
The Lawsuit Claims
The mother of Lisa Maas filed a Wrongful Death lawsuit against UPMC alleging that it was negligent for failing to recognize the likelihood that Andrews was a danger to people living in his apartment complex, in particular those living on his floor, and in failing to warn them of Andrews' repeated homicidal threats.
The legal issue in the case was whether UPMC owed a duty of care and a duty to warn someone who was not specifically identified in a threat of violence by a mental health patient.
The Supreme Court Decision
Pennsylvania law with regard to the duty of a mental health professional to warn third parties of threats of harm was previously explained in the case of Emerich v. Philadelphia Center for Human Development, Inc., 720 A.2d 1032 (Pa. 1998) as follows:
"In Pennsylvania, based upon the special relationship between a mental health professional and his patient, when the patient has communicated to the professional a specific and immediate threat of serious bodily injury against a specifically identified or readily identifiable third party and when the professional determines, or should determine under the standards of the mental health profession, that his patient presents a serious danger of violence to the third party, then the professional bears a duty to exercise reasonable care to protect by warning the third party against such danger."
In this case, the Defendants sought dismissal of the Maas lawsuit by claiming that, although there is a duty to warn "readily identifiable" potential victims, the "neighbors" against whom Andrews articulated murderous threats were not an enumerated and readily identifiable group.  Instead, they were a large, amorphous unidentifiable group of the public at large to whom there was no legal duty to warn.
Ultimately, the Supreme Court disagreed with UPMC and agreed with Maas that Andrews' neighbors at Hampshire Hall were a "readily identifiable" group of victims and that UPMC had a duty to warn them of Andrews' repeated threats to murder them.
The Decision by the Pennsylvania Supreme Court will allow the Mass lawsuit to go forward to a jury trial or, in the alternative, may lead to a settlement of Mass' Wrongful Death Claims.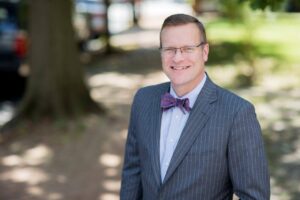 Tim Rayne is a Pennsylvania Car Accident, Personal Injury and Medical Malpractice lawyer with MacElree Harvey, Ltd.  For over 25 years Tim has been helping accident victims understand their legal rights and assisting them in obtaining fair compensation from insurance companies either through settlement or litigation.  Tim has law offices in Kennett Square and West Chester Pennsylvania and also meets with clients at their homes or virtually via Zoom or FaceTime.  Contact Tim Rayne for a Free Consultation at 6108400124 or trayne@macelree.com.
[/column]
[/column]