A Parent's Worst Nightmare
A parent's worst nightmare came true when Jason's mother got a frantic call from one of her teenager's friends at 9 o'clock at night.  "There's been an accident and Jason's hurt."
Compounding Jason's mother's panic was the fact that she was in Virginia at a sporting event with one of her other children, over five hours from their home in Downingtown Pennsylvania.
The Accident
Flash back ten minutes.
It seemed like a brilliant idea to the seven 17 year olds who were bored while hanging out in a one of their basements on an early Fall Friday night.  "Let's go get the trampoline from down the street!"
Four of the boys, including Jason, took off running down the middle of the neighborhood street while the other three piled into Brian's pick up truck to chase after them.
"Chill, slow down" front seat passenger Chuck told Brian as he tore down the neighborhood street in the pick up at about 4o miles per hour.
Brian didn't slow down.
As Brian's pick-up caught up to the boys and his headlights shined on them, three ran to the left and out of harm's way.  Unfortunately, Jason panicked and instead of running to the left, he swerved to the right.  Jason entered the path of the truck and was hit by the front bumper.  Jason's body rolled up the hood, hit the windshield and was thrown to the ground. Brian's pick up swerved off of the street and into a neighbor's yard.
The Injuries
Jason was unconscious for about a minute and them woke up as his friend called Jason's mom.
The Police responsed and Jason was taken to Paoli Hospital, the nearest trauma center.
Jason was diagnosed with multiple injuries from the truck versus pedestrian collision including traumatic subdural hemorrhage, concussion and post-concussion syndrome, and lacerations, bruises and abrasions from head to toe.
Jason was admitted to the hospital a for three days and then discharged under the care of a neurologist.  He underwent follow up care including months of rehabilitation.  Jason was off of school for about a month and then slowly resumed school activities.  During his recovery Jason endured multiple common post-concussion symptoms including headaches, vertigo, memory issues and emotional outbursts.
Jason's greatest disappointment was that he had to give up his passion of playing Lacrosse out of fear of further head injury damage.
The Legal Claim
Faced with large medical deductibles and co-pays as well as being confused by the Police Officer placing primary blame for the collision on Jason, his parents sought advice from Car Accident Lawyer Tim Rayne on Jason's legal rights.
Tim met with the family at their home a few days after Jason's release from the hospital.  Tim also visited the scene of the collision and reviewed the Police Report.
Tim learned that Brian had car insurance with Erie but that Erie was denying that Brian was responsible for causing the collision.
Unfortunatley for Jason, the Police Report concluded that Jason was the primary cause of the collision because he was running in the roadway.  However, the last note on the Police Report indicated that Brian was also charged with a traffic violation for driving at an unsafe speed.
To advocate for Jason in his claim against Brian's car insurance policy with Erie, Tim convinced Erie to look at the facts of the accident and the witnesses account of what happened rather than to just focus on the Police conclusion that Jason was primarily at fault for the collision for running in the road.
Tim stressed that the facts supporting Jason's claim against Brian included:
Brian knew that his friends were running down the road in front of him
Brian saw them in the road
Brian drove his vehicle in excess of the 25 mile per hour speed limit
Brian failed to slow down as he approached his friends
Brian ignored pleas from his passengers to "chill" and "slow down"
Brian was driving his pick up in a manner and at a speed that could have killed one of his friends
Tim also argued that it was understandable and excusable that Jason panicked and ran to the right instead of the left when faced with the sudden emergency of a vehicle speeding towards him at high speed.
Successful Settlement of Jason's Claim
In the end, Tim was able to negotiate a favorable settlement with Erie Insurance in which Erie paid $150,000 to settle Jason's claim.  The settlement allowed Jason's parents to pay for his medical bills and also provided substantial compensation to Jason to try to make up for his physical and emotional pain and suffering and the negative impact that the accident had on his life and activities.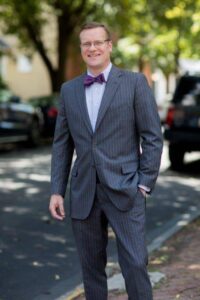 Tim Rayne is a Pennsylvania Car Accident Lawyer with the Chester County Law Firm MacElree Harvey, Ltd.  Tim has offices in Kennett Square and West Chester, Pennsylvania.  For over 20 years, Tim has been helping injured victims of accidents and their families understand their legal rights and receive fair compensation from insurance companies.  For more information on Pennsylvania Car Accident and Personal Injury cases, contact Tim at 6108400124 or trayne@macelree.com.