[column width="1/1″ last="true" title="" title_type="single" animation="none" implicit="true"]
Jim Carrey says Chris Rock Should Sue Will Smith for $200 Million
Actor/Comedian Jim Carrey appeared on a talk show yesterday and said that Chris Rock should sue Will Smith for $200 million for the slap incident at the Oscars.
I agree with him!
200 million dollars might be a little steep, but Will Smith's actions were outrageous.
It is simply not acceptable to respond to a joke with physical violence.
Will Smith has been an actor for over 30 years and has regularly attended award shows. Will and his wife Jada both knew that it is a standard part of every award show that hosts and presenters make fun of the celebrities who attend. People sitting in the front row are prime targets for these jokes and Will and his wife knew it.
So, it should have come as no surprise to either one of them that Chris made a joke regarding Jada's shaved head.
Will's reaction was shocking, selfish and extreme. He jumped up onto the stage, walked up to Chris, slapped him across the face, immediately turned his back and then went down into the audience where he shouted at Chris demanding in obscene language that he leave his wife alone.
For his part, Chris handled the incident appropriately and professionally.   Nevertheless, Chris will suffer significant embarrassment and harm to his reputation because a lot of people feel like he should have stood up for himself and defended himself but did not.
The Oscars video has been seen by billions of people by now and the harm to Chris Rock's reputation will continue to spread as it is used as a meme on the internet. For a lot of people, Chris Rock will be known forever as "that guy who Will Smith slapped."
The Legal Options – Criminal Charges or Civil Lawsuit
Chris could have and still can press criminal charges for Assault and Battery.  The Los Angeles Police and District Attorney would investigate and could move forward with relatively minor criminal charges.  At most, Will would likely face a fine and probation.
In addition, Chris clearly has a civil claim and could file a lawsuit for Assault and Battery because Will confronted and physically struck him without reasonable provocation.  The purpose of a civil lawsuit is to compensate the victim with money damages and to hold the defendant accountable for his actions as well as to deter him and others from committing similar acts in the future.
It does not appear that Chris suffered serious physical injuries from the Assault and Battery but emotionally he has suffered and will continue to suffer as the video view count climbs and the memes spread.  For some people, Chris Rock will be seen as that guy who let Will Smith slap him and yell at him without defending himself.  This permanently tarnishes his reputation.
Under the Civil Law System, Chris  is entitled to be compensated to try to make up for his emotional pain and the harm to his reputation.
Punitive Damages
In addition, Chris has a Punitive Damage claim against Will Smith. The purpose of Punitive Damages is to punish outrageous conduct and to deter the person who did it and others from doing similar things in the future.  In my opinion, this is a textbook case of an outrageous act that should be punished.
As a comedian, Chris would be doing a great service to his fellow comedians by telling Will Smith that this conduct will not be tolerated and by pursuing a civil claim.
People in this country need to know that they have no right to physically attack comedians just because they don't like their jokes. Violence is never a reasonable response to a joke. Chris Rock can send a message and teach a lesson that this type of behavior cannot be tolerated, even from a beloved actor.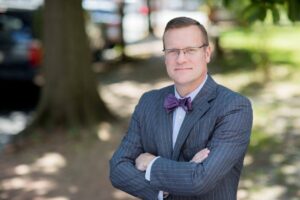 Tim Rayne is a Personal Injury Lawyer with MacElree Harvey, Ltd.  Tim has law offices in Kennett Square and West Chester Pennsylvania and also meets with clients in their homes or virtually via Zoom or FaceTime.  Tim can be contacted at 6108400124 or trayne@macelree.com or you can check out his website at www.TimRayneLaw.com.  
[/column]