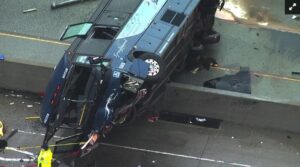 The bus driver who caused the fatal Greyhound Bus crash in Northern California on January 19, 2016 admitted to being fatigued at the time of the accident.
The bus left Los Angeles at about 11:30 p.m. and crashed near San Jose at about 6:40 a.m.  The bus slammed into of the center divider of the highway and then rolled over, killing at least two and injuring others.
Although this crash occured in California, Fatigued Driving of truck drivers and bus drivers also poses a serious danger to drivers on our roads and highways in Pennsylvania.
To help combat the danger, the Federal Motor Carrier Safety Administration has created regulations which govern the working hours of anyone driving a commercial motor vehicle which covers both truck drivers and bus drivers.  The regulations limit the number of hours that can be spent driving and working per day and per week and require minimum rest periods.
Violations of these regulations can lead to fines and lawsuits in the event that a fatigued driver causes injury or death.
Tim Rayne is a Pennsylvania Truck Accident and Bus Accident Lawyer who helps victims of accidents receive fair treatment from insurance companies.  For a Free Consultation after a Truck Accident or Bus Accident in Pennsylvania contact Tim at 610 840 0124 or trayne@macelree.com.