[column width="1/1″ last="true" title="" title_type="single" animation="none" implicit="true"]
As a Personal Injury Lawyer I help many clients deal with insurance companies after being injured in Slip and Fall accidents on snow and ice.  Slip and Falls can result from just bad luck or from Negligence of the property owner or a tenant.
Here are some thoughts on how avoid Wintertime liability for Slip and Fall Injuries altogether or manage the risk effectively.
1- Clearly Define Who is Responsible
In Landlord/Tenant situations, it should be clearly spelled out in the Lease who is responsible for plowing and shoveling snow and ice as well as treating patches that melt and refreeze.  The Lease should also define responsibilities in the event that a lawsuit occurs and require that adequate insurance be purchased ahead of time.
In situations where a business or home has frontage on a public sidewalk, research should be done concerning whether the property owner or municipality is responsible for clearing and treating the sidewalk.
2- Promptly Clear Snow and Treat Ice
Pennsylvania has a favorable "Hills and Ridges Rule" that protects property owners and tenants from liability for slip and falls during or shortly after storms.  The Rule recognizes that it is unreasonable to demand that a property be kept entirely free of ice and snow at all times, especially during storms.
The Hills and Ridges Rule says that property owners have a reasonable amount of time to plow, shovel and salt after a storm and cannot be held liable unless they "allow the snow to accumulate in ridges or elevations of such size and character as to unreasonably obstruct travel and constitute a danger to pedestrians."
So, to avoid liability, clear ice and snow within a reasonable time after the storm.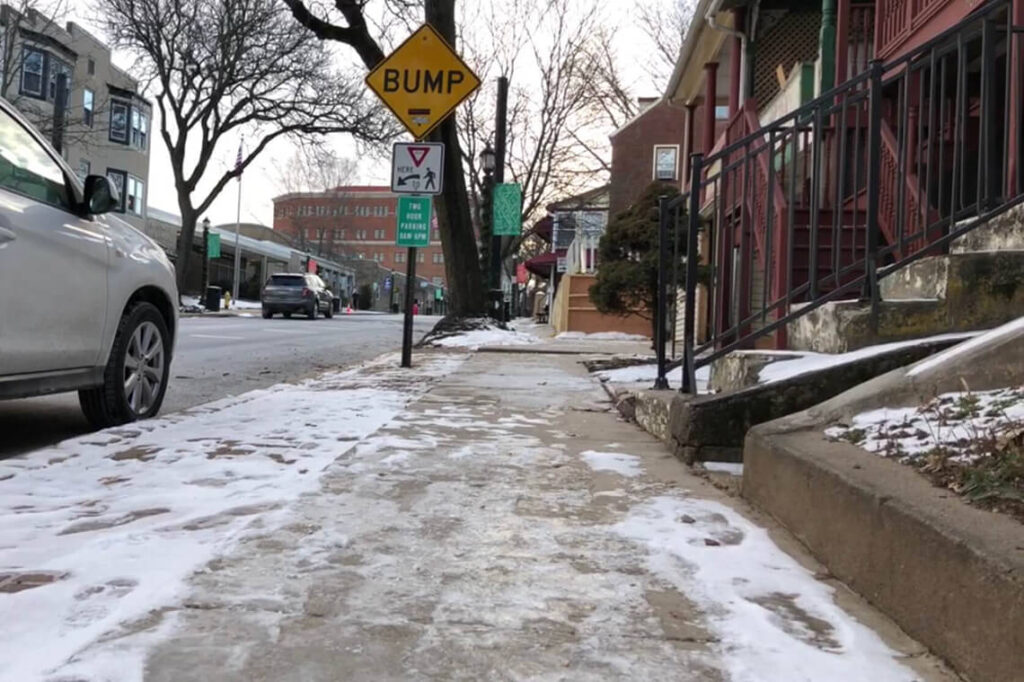 3-  Don't Forget to Treat Ice Patches
After the initial plowing and shoveling, it's common to have melting and refreezing, which can create dangerous ice patches.  The Hills and Ridges Rule does NOT protect property owners or tenants from ice caused by melting and refreezing.
To minimize the danger, think about where and how you will pile the snow.  Remember that gravity will cause the melting piles to flow downhill.  Be sure to establish a schedule for salting ice patches and keep records of those activities to have proof that you made a reasonable effort to keep the property safe.
4-  Inspect and Maintain Gutters and Downspouts
Ice patches often come from defectively designed or maintained gutters and downspouts which discharge melting snow and ice onto sidewalks or parking lots where they refreeze.  Again, the Hills and Ridges Rule will not protect you if this happens, so make sure you inspect, repair and maintain your gutters and downspouts.
5-  Properly Insure Your Wintertime Risk
Make sure that you have adequate liability insurance limits in order to insure against Slip and Fall accidents.  Unfortunately, Slip and Falls can result in very serious injuries including head injuries, broken bones (hip and wrist are most common) and neck and back injuries.  It's prudent to carry at least $1 Million or more of liability coverage to provide financial protection if an accident occurs and you get sued.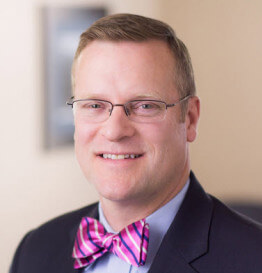 Tim Rayne is a Personal Injury Lawyer with MacElree Harvey, Ltd.  For over 20 years, Tim has been helping injured victims of Slip and Fall Accidents understand their legal rights and receive fair treatment from insurance companies.  Tim has offices in Kennett Square and West Chester, Pennsylvania and can be reached at 6108400124 or trayne@macelree.com.  
[/column]